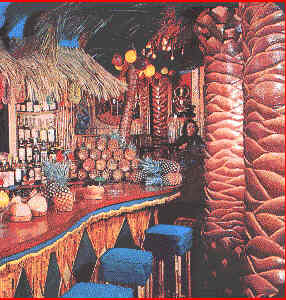 LES BAXTER: THE LOUNGE IS CLOSED
by Bob Rixon
The world lost a giant of cocktail music when Les Baxter died at the age of 74.
Cocktail music is a popular genre these days. Although many current revisionist practitioners carry on the style, cocktail music's golden age spanned the decade from the mid-50s to the mid-60s, and it really blossomed with the arrival of stereo sound. Cocktail music ranges from the lush violins of Mantovani and Jackie Gleason to certain areas of cool jazz and beyond, into the whacko territory of early electronic instruments like the theramin. But its center is defined by bongos bouncing from speaker to speaker, by crazy mambos featuring cheesy organ solos, and especially by what is called "exotica." Exotica was Baxter's specialty, although he excelled at everything.
I suppose that the ideal cocktail music fantasy is like this: You come home from work on Friday and change into something more comfortable. The doorbell rings, and in walks your paramour or the current nominee for that role. So you mix a couple of wild drinks in plastic glasses shaped like fish, with little umbrellas poking out of them. For aural; ambience, you browse through your record collection. Passing over albums like "The Cool Scene," "Brass and Bamboo," and "Video Allstars Play TV Private Eye Themes," you pull out your Les Baxter records. These include songs with titles like, "Sunshine at Kowloon," "Le Sacre du Sauvage" and the incomparable "Quiet Village."
Don't be fooled; this music was recorded in Hollywood, California when it was still a place you might want to visit. Not only did Baxter use Hollywood's most ace session musicians on these LPs, he also used gongs, xylophones, bird calls, sexy-voiced singers, sitars, accordions, zithers, wooden flutes, timbales and anything else that happened to be lying around the studio. Carefully placing the record on a state-of-the-art hi-fi in an imitation walnut cabinet, you're transported to a South Sea island, Bangkok, or wherever, for a romantic cocktail hour that is sure to run overtime.Les Baxter practically invented this stuff. Sure, other geniuses followed his lead, like Martin "Hypnotique" Denny, Jack "Garden of Allah" Costanza and Chick "Samoan Knife Dance" Floyd. Arrangements became more complex, amplifiers more powerful, the recording studio more versatile, and sound effects and tricks began overtaking the mood itself. In time, the late, great Henry Mancini tried - unnecessarily - to bring some respectability to the genre with music that virtually floated away on good taste. Then James Bond arrived with transistorized props, a new soundtrack score & a talent for instant sexual gratification. Seduction takes time, but time was running out for bongo magic.
Les Baxter paid his dues singing with Mel Torme's Mel-Tones and conducting radio orchestras. The maestro admirably fulfilled his tinsel town ambitions, composing his scores for such screen masterpieces as "The Lone Ranger and the Lost City of Gold," "How to Stuff A Wild Bikini," "Muscle Beach Party,' "Torture Chamber of Baron Blood, "Panic in the Year Zero!" and "The Beast Within." The latter movie is notable for its early use of disgusting "bladder" type makeup. Baxter worked on TV & wrote countless vocal & orchestra arrangement at Capitol records. Sinatra liked Les enough to sign him to Reprise. An impressive resume, yet Baxter's finest efforts are his solo project, which were both interesting & profitable.
Much of this music is still around, if you're willing to pay the price. Many of the covers are classics, including Baxter's. Records that were going for fifty cents a few years ago are now commanding top dollar. You can buy cocktail music on compact disc, but you can't use turning the record over as an excuse to close the shades and dim the lights. Fortunately, I already possess a good collection. Hanging on my wall is a framed copy of "Lonesome Echo," with album cover art by Salvador Dali, a priceless gem. In memory of Les Baxter, I'm going to mix myself a Krakatoa Firecracker and be a stranger in paradise for an hour.

© Bob Rixon
An earlier version of this essay was published in 1997 in Worrall Community Newspapers.